Welcome Wagon
Supporting Local Businesses
We're Planning a Monthly Mailing Campaign 
Monthly Mailer For New Residents
Reach High Quality Leads, and form a relationship the moment they join our community for less than $0.07/customer – That's less than a stamp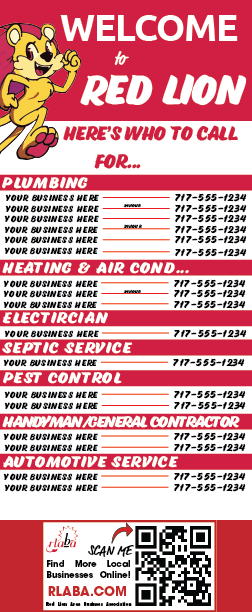 Shopping local
What We're Planning To do 
How it Works
When you become a member of the association you can participate in the monthly mailer – reaching on average 1200 new residents in one year – on top of the other benefits of your $85 membership. 
We're Targeting these Zip Codes for now. 
Each month we'll receive a list of addresses for residential families that are new to the area; provided by reliable corporate data brokers. We'll print, address, and stamp the magnetic mailer. 
Local Businesses Only
Only locally owned companies and franchises can participate – We're targeting for service companies to start as space is limited and your information would be most useful to people moving to the area. 
Sign Up To Participate
Join the association to support others, your community and your own company. 
Get In Touch with the Association
Join us on Red Lion's Community Discord Server.